Peer Coach Training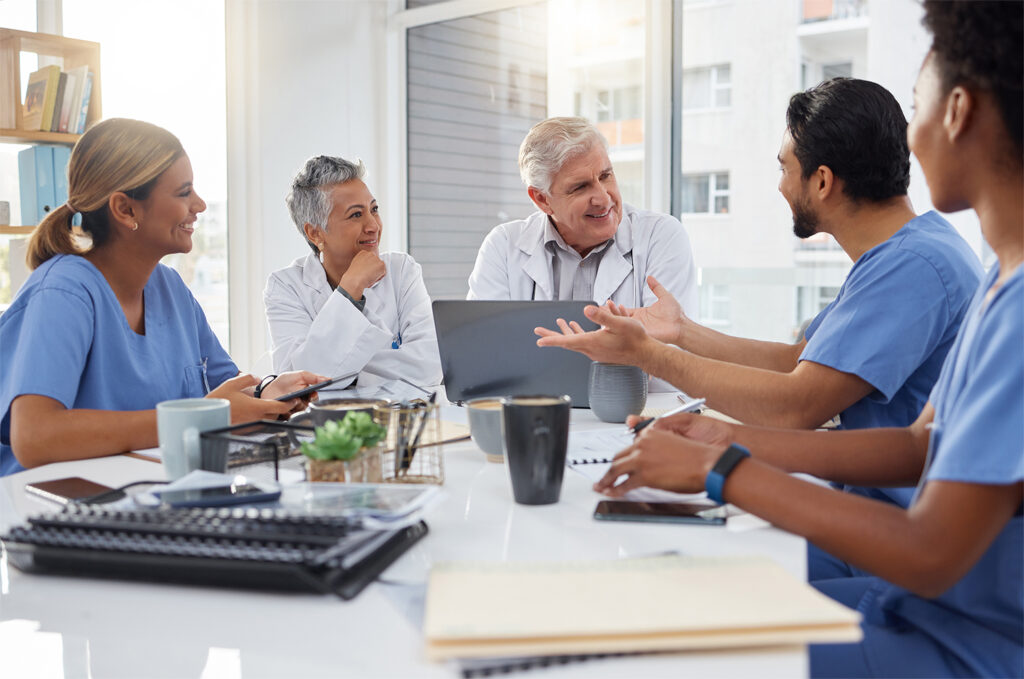 We train physicians and advanced practice providers to be peer coaches. A peer coaching program encourages clinicians to reach out for help sooner. Clinicians often prefer to talk with someone who lives the day to day challenges of EMR, critical demands, and acuity of the work. Peer coach training occurs in small group cohorts and allows for practice and skill development.
We also train leaders to develop a coaching leadership style. This gives leaders the tools and resources they need to coach their team effectively. A coaching approach has shown to increase engagement and satisfaction in both leaders and their employees.
As a Master Coach Certified Trainer credentialed by the Center for Executive Coaching, we offer interactive, hands-on training. Participants learn the skills and tools they need to become an effective coach.

Veritee Presentations
National:
Coalition for Physician Wellbeing Annual Conference-
Presentation: Physician Coaching Strategies 2019
Panel: What it takes to earn the Medicus Integra Award 2020
Roundtable: Leading Together: Group Coaching for Physicians and Advanced Practice Providers 2023
Doctors for America
On the Ground Year-Round with Self Advocacy as the Foundation 2021
Health Systems:
Avera
Peer Coaching Training for Physicians and APP's 2018 and 2019
Co-created Illuminate—Physician and APP Group Coaching for Teamwork
Hundreds of presentations on Burnout and Wellbeing Programs for leaders, physicians, clinic managers and healthcare executives.
Monument Health
Grand Rounds: Upstream Approaches for Culture of Personal and Organizational Wellbeing 2022
The APP Voice in Healthcare Success 2022
Physician Executive Team: Leaders Resources and Strategies for Wellbeing 2022
Associations:
South Dakota Dental Association
Wellbeing Workshops for Dental Clinics 2021-current
Annual Conferences:
Clinic Manager Session–Employee Retention: Building a culture of wellbeing 2023
Clinic Managers—Managing in the Marvelous Middle: Maximizing your Influence and Energy 2022
Reinventing After Chaos: Moving Forward with a Truth Strategy 2021
Webinars:
How to help a colleague who is struggling 2022
Managing in the Middle 2022
South Dakota Medical Group Management Association
Upstream Approaches for Creating a Culture of Well-being:
Strategies for Healing the Burnout and Mental Health Crisis 2022
South Dakota State Medical Association-
Health Leadership Institute: A Path to Wellbeing 2019-2021
Medi-Sota
HR Leaders: Strengthening Rural Healthcare Workforce 2023
Communication Strategies for Physician and Clinical Leaders 2022
COVID Coaster: Leading Through the Twists and Turns 2021
Be Well Lead Well: Leader Strategies for Wellbeing 2021
Minnesota Rural Health Cooperative
Strengthening Healthcare Workforce: Upstream Strategies for Burnout 2023
SD CEO East Women's Business Center
The Year of YOU in 22: Surviving to Thriving 2022
Women Lead Change
Thriving After Chaos with your Truth Transformation 2021
StartUp Sioux Falls
Mental Health and Entrepreneurs 2022
Medical Schools:
Northwestern College Physician Assistant Program:
Preventing Burnout and Promoting Wellbeing 2000
USD:
Spirituality in Medicine Class:Spiritual Strategies for Wellbeing 2021
Residency Programs: Strategies for Wellbeing 2000