Peer Coaching Training
I train physicians and providers to be peer coaches. A peer coaching program encourages physicians and other providers to reach out for help. Physicians and providers often prefer to talk with someone who lives the day to day challenges of EMR, critical demands, and acuity of the work.
I also train leaders to develop a coaching leadership style. This gives leaders the tools and resources they need to coach their team effectively. A coaching approach has shown to increase engagement and satisfaction in both leaders and their employees.
As a Master Coach Certified Trainer credentialed by the Center for Executive Coaching, I offer interactive, hands-on training. Participants learn the skills and tools they need to become an effective coach.
Group Coaching
"If you want to go fast, go alone. If you want to go far, go together"

African Proverb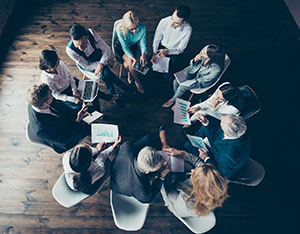 Group coaching allows a small group to focus on key issues, action steps, and accountability to encourage change.
Group coaching offers peer support and draws feedback from the collective wisdom of the group. It provides a unique learning environment to focus on one issue or to develop multiple skills such as communication, leadership, goal achievement, self awareness, team collaboration, social skills, life and work integration, and leadership.
The group process enhances trust and connection while facilitating motivation and momentum. With group coaching, members feed off the group's energy, creativity and successes, which inspires change.
EQ-i2.0 and EQ 360
It's common for executives and physicians to have a high IQ in fields such as medicine, engineering, business, law, entrepreneurship, or technology. However, many of these professionals lack the awareness and skills of EQ — Emotional Intelligence. EQ-i2.0 assessments provide important self awareness to build better relationships at work and home.
"An EQi2.0 assessment measures emotional intelligence, a set of emotional and social skills that influence the way we perceive and express ourselves, develop and maintain social relationships, cope with challenges, and use emotional information in an effective and meaningful way." (Source: Multi-Health Systems, Inc.)
This tool helps clients excel in the key areas of EQ: self perception, self expression, interpersonal skills, decision making, and stress management.